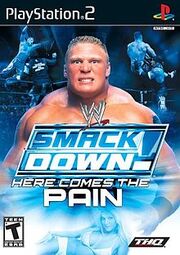 WWE SmackDown! Here Comes the Pain
is a video game released on the
PlayStation 2
by
THQ
on October 27, 2003. It is a sequel to
WWE SmackDown! Shut Your Mouth
and is part of the
SmackDown vs. Raw series
based on
World Wrestling Entertainment
's weekly TV Show of the same name. It was the first
SmackDown! game
to feature a catchphrase not linked back to
The Rock
in its title. It was also the final WWE game under the
SmackDown!
name only and it was succeeded by
WWE SmackDown! vs. Raw
. 
Gameplay 
Edit
The game introduced a more traditional grappling system while retaining the series' fast gameplay. In this new grappling system also included were body damage meters, individual character scales that consisted of stats such as strength, endurance and speed, and submission meters for both the person applying the move and the person breaking out of the move. As well as the ability to break the submission hold when being close to the ropes. This game marks the first time the Elimination Chamber and the Bra and Panties Match  would be featured in a wrestling game.
The game features a number of wrestlers who were members of the WWE roster at the time, but for the first time in a Smackdown game, this featured legends such as Jimmy Snuka, "Rowdy" Roddy Piper, and The Undertaker (with his 90s gimmick), and more. Hulk Hogan, and Ultimate Warrior were in the game, but then removed before the game was released. This would be the final SmackDown!-branded game to feature Brock Lesnar, Val Venis, and Rikishi, as well as the only WWE licensed game to feature Ultimo Dragon and Sean O'Haire as playable characters. It is also the first game in the SmackDown! series to have Batista, Chavo Guerrero and Rey Mysterio as playable characters. This also marks the final time that "Stone Cold" Steve Austin and The Rock would appear in a SmackDown! game as non-legends. Also it is the last game to feature The Undertaker before he dropped his biker gimmick and the first game to depict Kane without his mask.